Beijing - China has the highest rate of diabetes - 9.7 percent - and the largest diabetic population - of more than 92 million on the mainland - a leading expert has said.
Ji Linong, who heads the Chinese Diabetes Society, said a diabetic epidemic was prevalent among adults, citing a recently-published study which sampled 46,000 people above 20 from 14 provinces and municipalities.
"Along with economic growth and a new lifestyle featuring a rich diet and less exercise, the number of diabetics will continue to rise," he told China Daily.
Some 285 million people around the world now live with the life-threatening disease, which causes almost 3 million deaths each year, according to the International Diabetes Federation. In the United States, 8 out of 100 people are diabetic.
But in China, awareness about the disease is low, with 60 percent of patients undiagnosed. Almost half the patients in the latest study did not know of their condition, said Ji, who took part in the study conducted around 2008.
Also, another 148 million in China are considered pre-diabetic - who display early symptoms of diabetes that can lead to cardiovascular disease, the leading cause of death.
Ji blamed the lack of a nationwide early detection and diagnosis mechanism, citing regular surveys on diabetes in the US and a universal screening program in Japan.
"The government should spend more to enhance intervention capacity, particularly for prevention and early detection," said Ji, also director of the endocrinology and metabolism department of Peking University People's Hospital.
Currently, cases are largely detected in screenings at hospitals, when most are already showing serious symptoms.
People who are above 40, overweight, or in well-off urban areas where Western fast food chains are common, face a particularly high risk.
Overweight children are also prone to the disease, Ji noted. In Beijing, nearly 20 percent of elementary and middle school students are overweight, according to a health report issued by the municipal government last week.
A recent survey conducted by the Chinese Association for Student Nutrition and Health Promotion showed nearly 30 percent of urban children aged between 6 and 17 eat at fast food restaurants at least once a week.
Frequent consumption of high-fat food like hamburgers, fried chicken and colas leads to child obesity and other health risks including diabetes, said Zhu Baoduo, director of the association.
China Daily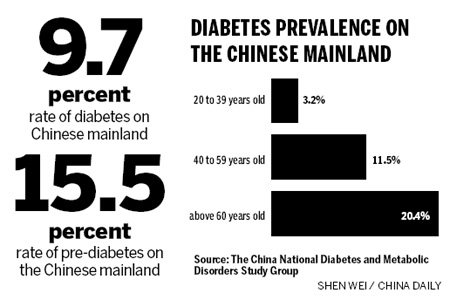 (China Daily 05/26/2010 page1)